Cut from heavy duty 16 gauge steel.
Receives a durable powder coated finish so your piece can be placed indoors or outdoors without worrying about weather conditions or rusting.
Available in
12"
18" (size displayed in main listing photo)
24"
30"
36"

Customer Reviews
Write a Review
Ask a Question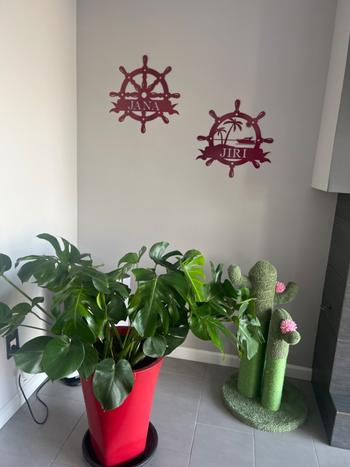 03/04/2023
Yacht Wheel Monogram
Love the product. I purchased 2 yacht wheel monograms. At first, I wanted to place it outdoor but decided to place on the wall in our living room. I got a lot of positive comments. My friends like it very much! I am purchasing more wheels to place it on our large 2nd store balcony.
Jana K.

United States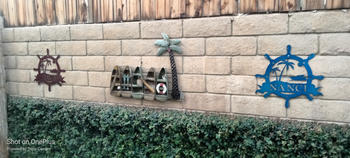 05/26/2022
Yacht Wheel Monogram
I actually order three of these and they are beautiful!!! I am VERY please with this purchase.
David U.

United States
08/31/2023
Gorgeous!!
We ordered this for our son's new adventure as a boat master captain. He was thrilled with it!
Tracy A.

United States
06/08/2023
My house plaque
We are very pleased with our yacht wheel. It will be placed on the front of our home to display our address. Thank you so much for your unique work.
Patty M.

United States
01/28/2023
Yacht wheel
I don't believe this is the one I ordered.
CHARLOTTE C.

United States
11/23/2022
Great product
Love the sign, and the quick turn around was very impressive
Dana U.

United States
08/02/2022
The Best
Love the results! I made an error in the order (wrong color)and immediately emailed the company. They responded promptly and made the change. Received the product in the desired color in a very short time. We are very pleased with the results. Recommend this company highly. We'll be back!
Tim M.

United States
06/13/2022
Yacht Wheel Monogram
I already have two of these in my backyard patio area. They are absolutely beautiful. I ordered one for my brother back east and again, you guys went over the TOP for me. THANK -YOU ! ! !
David U.

United States